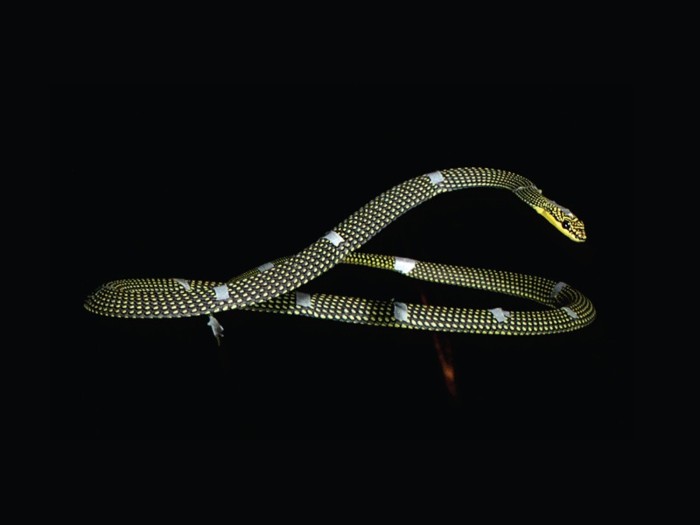 Some snakes can 'fly' — and can lengthen their flight by undulating as they travel through the air.
Flying snakes, which belong to the genus Chrysopelea, do not perform powered flight. Instead they glide, undulating as they go. But does their sinuous movement control their glide path or is it simply a vestigial wriggle connected to evolutionarily ancient movement centres in the brain?
To find out, Isaac Yeaton and his colleagues at Virginia Tech in Blacksburg captured the snakes' airborne action with 23 cameras that tracked a number of markers on the reptiles in 3D space. The researchers then used that data to build a 3D mathematical model of snake 'flight' with and without the undulation.
A snake jumps to get going, flattens its body into a triangular aerofoil that acts similarly to the wing of a plane, and then starts to undulate. The undulation stabilizes the snake's glide: the motion controls the animal's roll and pitch, allowing the snake to travel further than it would do if it did not undulate.
Intriguingly — or horrifyingly, depending on your feelings about snakes — the researchers suggest that the aerial undulation could be used by flying snake-like robots.